Created on Wednesday, 12 April 2017 19:18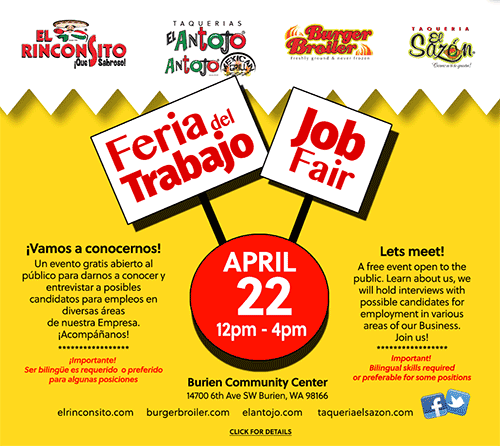 SATURDAY APRIL 22nd
Burien Community Center 14700 6th Ave SW Burien, WA 98166
more info/más información:
253 830 3030 ask for Tina Rodriguez
email This email address is being protected from spambots. You need JavaScript enabled to view it."
JOB FAIR
Let's meet!
A free event open to the public. Learn about us, we will hold interviews with possible candidates for employment in various areas of our Business.
Join us!
•Cooks •Dishwashers •Food Prep •Drivers •Cashiers •Waitress •Bartenders •Tortilla Makers •Managers
•Assistant Managers •Administrative Work •Office Work •ITT Technicians •Graphic Design •Graphic Production •App Development •Website Development •Marketing
Important! Bilingual skills requiredor preferable for some positions
***************************************
FERIA DEL TRABAJO
¡Vamos aconocernos!
Un evento gratis abierto al público para darnos a conocer y entrevistar a posibles candidatos para empleos en diversas áreas de nuestra Empresa.
¡Acompáñanos!
• Cocineros •Lavaplatos •Preparadores •Choferes •Cajeros(as) •Meseros(as) •Cantinero(a) •Tortillero(a) •Gerentes •Asistente de Gerente •Trabajo Administrativo •Trabajo de Oficina •Técnicos ITT •Diseño Gráfico •Producción de Gráficos •Dessarollo de Apps •Desarrollo de Website •Mercadotecnia
Importante! Ser bilingüe es requerido o preferidopara algunas posiciones