Bienvenidos Amigos!
Delicious dishes can only be made by using quality ingredients, care and love when preparing and serving. From fast serving Tacos, Quesadillas, Burritos to delicious Seafood, Mojarras, Camarones and our suculent Carne Asada and Arroz con Pollo. We pride ourselves for our fast friendly service in a family, kid friendly environment and authentic Mexican flavors. Note: Phone-in orders credit card only/ órdenes por teléfono sólo con tarjeta de crédito

Welcome, Enjoy & Come Back Again!


Try our Burrito Regular or Burrito Bowl!
Your choice of meat except lengua or tripa, with lettuce, black beans, white rice, pico de gallo, corn kernels, green sauce and Mexican sour cream.
Burrito Bowl plus Mind Water Just $5.99

Mind Water® beverages are pasteurized and made with real fruit pulp, Ask you attendant for any flavors available at the location you visit. Limited time offer. No beverage substitution.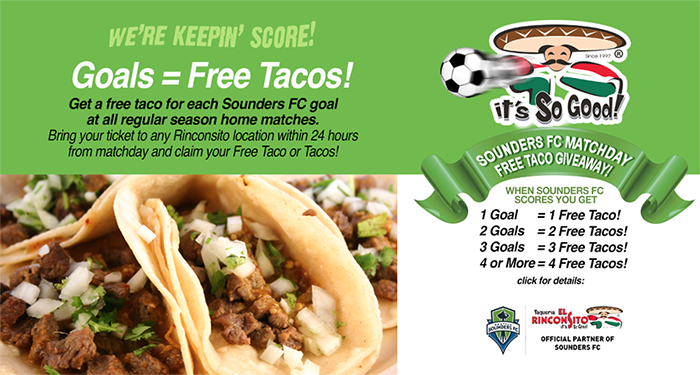 We're keepin' score with our SOUNDERS FC MATCHDAY FREE TACO GIVEAWAY!


It's So Good,

Goals = Free Tacos!

Bring your ticket to any Rinconsito location within 24 hours from matchday and claim your Free Taco or Tacos!
!
Click to read more & for Rules & Conditions




MIND WATER® BEVERAGES

P
asteurized and made with real fruit pulp, so delicious you will love them all!

Note: Some flavors might not be available at this time or at any particular location.

We appreciate your feedback, comments, suggestions, reviews, complaints, you name it, click here for you options on how to rech us!

Late Hours Some Locations:
Bellevue: Mon -Thur 'til 1am

Weekends - Fri & Sat open 'til 1am:


Burien, Tacoma, Kent & Federal Way & Yakima open until 3am Friday & Saturday!
Click here for all locations hours:

Yakima Area:
Pick up an
application at:
1101 S. 3rd Avenue Yakima, WA. 98902
(509) 452-8663

Seattle Area:
Call Jesus Bodolla at
253-740-3747
Call our Main office:


253-830-3030




We Are Hiring!
Join Our Team!

Click here to download PDF Application